Property of Claudio Passoni – Maria Angela Zambolin (Italy)
Constructed 2007-2009
Situated in the Malerba district of the village of Sessame (ASTI)
Piedmont ITALY
The swimming pool is an excellent example of a 12×6 pool with diving area and the classic pool shape.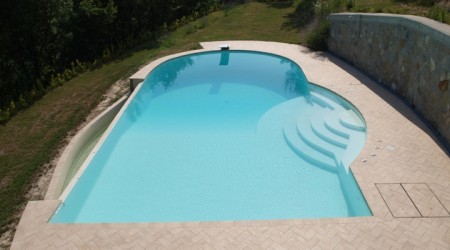 This swimming pool is in absolute harmony with the surrounding wall that houses it, the collection tray for the water which runs off from the infinity edge of the main pool and the paved area which surrounds the pool.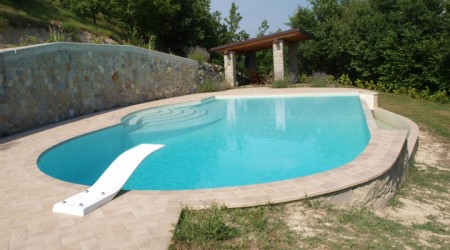 Of special interest is the use of a circular design theme which is to be seen on both the length and width of the pool and on the steps leading down into the pool.
Contained in the steps is a hydro-massage system so that a seating ledge has been included which allows bathers to relax and enjoy the full benefits of this feature whilst seated in the water.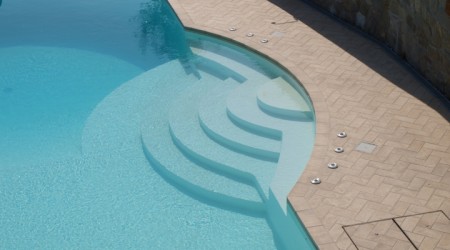 Of note is the diving area of the pool which gives it an extra dimension by enhancing the leisure opportunities.
The construction of the pool of is in reinforced concrete and it was finished using local materials typical of buildings in the area.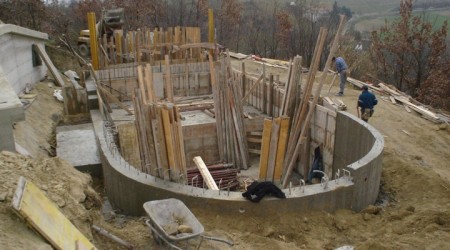 As an ancillary construction, a small gateway was built where sun loungers, chairs and tables can be stored and, in addition, the surrounding area was sympathetically planted to define the access paths within the surrounding grounds.